Fungus gnats look like tiny, black flies with grayish transparent wings. The adults are about 1/16-in (.2 cm) long and have long legs and antennae. Being so small, they can enter a home through the tiniest of openings. They sometimes arrive in a newly purchased bag of potting soil. They're more of an annoyance than anything. They are harmless to humans, and unlike many house plant pests, the adult gnats don't feed on plants, but the larvae can. They're attracted to moist organic matter such as peat moss and fir bark in many...
read more
Decorating your office with plants is a great way to liven up your work space and they are a great mood booster. Let's take a look at a couple things to consider before selecting plants. Once you have cleared it with the "Boss" and want to start looking into some good low light plants for your office, here are some common favorites: Aglaonema: As shown in picture.  These plants are from tropical Asia and Africa.  They are popular houseplants and ornamental plants for offices and shopping malls because they are among the...
read more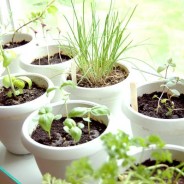 When the weather starts to turn cold, I start to think about what herbs i can start to grow indoors. I like to stick to a few easy-to-grow basics like the ones on the list below, which offers a hierarchy of 8 of my favorite easy-to-grow herbs, ranking them from easiest to most difficult to grow. 1. Lemongrass Technically, you don't even grow lemongrass, in that it's not planted in soil, making this one incredibly easy herb to keep in the house. When buying a stalk at your local market, look for plenty of stem and make sure the base is...
read more
The benefits of gardening are numerous, but gardening also requires land – something that many commercial and urban settings lack. However, vertical gardening is a fairly simple way to enjoy the aesthetics of plants within a limited space. Vertical gardens grow upward alongside building exteriors and interior walls, creating captivating scenery where it would otherwise be impossible. Vertical gardens, or green walls, feature living plants. The design and purpose of vertical gardens run the gamut – from elaborate designs that scale towering...
read more
Choosing the right container for your indoor Plants is as important as providing the right light and proper watering. If you ask a number of gardeners you'll probably get a variety of responses as to what kind of container to use. The trick is to take the plant's needs into consideration. Do you go with a plastic or terracotta container? what about a glazed container? Each have their pros and cons and their devotees. Terracotta containers are great for people who may be water worriers. If you are constantly wondering if your plant...
read more
Lucky for those of you with allergies out there, you can enjoy flowers, too. Just follow a few simple steps: First, look for flowers that have low pollen counts or don't make pollen at all. That's because flowering plants (i.e. the male plants) make pollen that can irritate your eyes. The weeping fig and the flowering maple are particularly offending. Look instead for low-pollen plants, such as passionflower or Swedish ivy. HGTV offers some more suggestions for low-pollen plants, or of course, you could avoid pollen altogether and...
read more
All plants require light to survive. It provides the energy they need to convert water (taken in through the roots) and carbon dioxide (absorbed by the leaves) into the carbohydrates that make up the structure of a plant. This process is called photosynthesis, which means "assembly by light". The conditions inside buildings are very different from those in nature so interior landscapers need to understand how different plants use light and how they adapt to life indoors. Light sources The light that indoor plants receive comes from many...
read more
International research has revealed office plants can help a business through hard times by boosting staff morale and improving business performance. Research from the US, the Netherlands and the UK has found that the presence of office plants can have a positive effect on the work environment, helping to reduce stress and sickness absence, increase productivity and improve well being and air quality. Research from University of Technology in Sydney also confirmed the role of plants in improving indoor air quality, cooling and noise...
read more
Combining a variety of plants in one container vastly expands the design potential of indoor landscaping. Plants with complementary colors and foliage styles can be grouped to create an atmosphere of peaceful serenity. Or energize a room by contrasting flower colors and juxtaposing soft, curving foliage with edgy, spiky plants. Combining plants of different colors, foliage types and growing habits (upright, trailing, bushy, etc.) adds visual depth and texture to a room. In creating indoor container combinations, you are limited only by your...
read more
It seems obvious that we do business where we perceive we receive the best value for our time and money. Perceptions, however, are not always accurate when we are lacking some of the essential information for fully informed decisions. We see and hear the omnipresent ads of corporate chains everyday, but are collectively under-informed about the many important values independent businesses provide us individually and as a community. The disappearance of local businesses leaves a social and economic void that is palpable and real – even...
read more